About Our Label
We believe a wine's label ought to communicate more than just the variety and vintage of what's in the bottle. It should also reflect the heart of the winemaker. When you view the Newell Vineyards label, there's no mistaking our passion for fine wine, our love of family, and our desire to build a lasting legacy for both. We commissioned renowned illustrator Catherine Deeter, who created a warm and delightful conte crayon portrait of our then 2-year-old twins, Minton and Mackenzie Newell, working together with designer Gayle Downs. We believe the label perfectly captures not only the likeness of our children, but their playfulness and personalities as well - qualities that complement the character of the wines behind the label.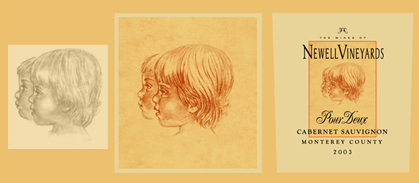 The playfulness continues into the naming of our red varietals, each of which contains a different treatment of the number "two." The reason? It's the number that seems to resonate in so many areas of our life:
• Our anniversary is March 2
• 2 children, pictured at the age of 2
• 2 black Labradors (sisters)
And since a bottle of wine is the perfect amount for 2 people to share, we decided the name of each red varietal would play off the phrase "for two" in various languages:
• Pour Deux Cabernet Sauvignon (French: "for two")
• Pro Dous Cabernet Franc (Latin: "for two")
• Para Dois Petite Sirah (Portuguese: "for two")
Our Manisse Chardonnay also has a family connection. It's named for Jay's mother, Manisse Newell - a well-known floral designer and event planner who counts Queen Elizabeth and the San Francisco Opera among her notable clients. Her charm, warmth and sparkling personality make Manisse unforgettable - both the woman and the Chardonnay!